Police to quiz Cristiano Ronaldo after 'mobile phone knocked out of young fan's hand'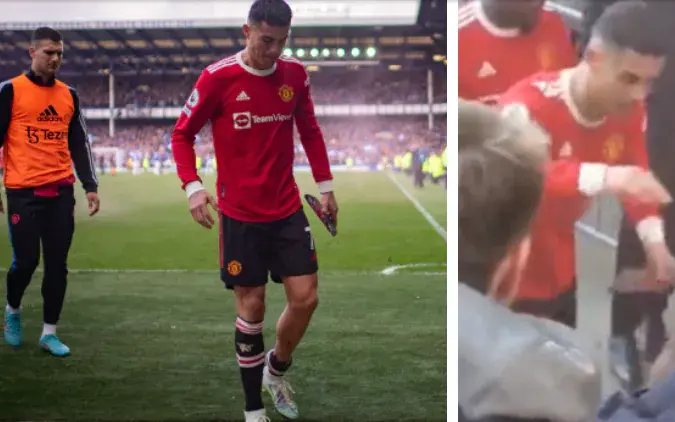 Manchester United star took to social media on Saturday evening to apologise for his actions after the defeat to Everton
Cristiano Ronaldo is to be quizzed by police following his outburst directed at a fan in the aftermath of Manchester United's defeat to Everton.
Merseyside Police confirmed they were examining the incident in a statement issued on Sunday and planned to speak to 'all parties' involved.
Ronaldo took to social media on Saturday evening to apologise for his actions, with video footage emerging that appeared to show an incident involving a mobile phone between the United forward and a supporter.
United launched their own investigation into the incident. Ronaldo posted a statement on his Instagram profile in which he invited the fan concerned to an Old Trafford fixture, putting his behaviour down to the emotions in the immediate aftermath of a damaging defeat.
"It's never easy to deal with emotions in difficult moments such as the one we are facing," Ronaldo wrote.
"Nevertheless, we always have to be respectful, patient and set the example for all the youngsters who love the beautiful game. I would like to apologise for my outburst and, if possible, I would like to invite this supporter to watch a game at Old Trafford as a sign of fair-play and sportsmanship."
But Ronaldo's hopes that would end the matter have proven premature. The police statement read: "Merseyside police can confirm that they're carrying out an investigation following an incident at theEverton v Manchester United match at Goodison involving a Manchester United player as they were walking off the pitch and will be speaking to all parties involved."
United were beaten 1-0 at Goodison Park, a defeat which leaves them six points behind Tottenham Hotspur in the battle for a Champions League position.
Goalkeeper David de Gea branded their performance on Merseyside a 'disgrace' as another poor campaign at Old Trafford limps towards a conclusion. Ronaldo had moments earlier revealed two large gashes on his left leg after the final whistle. (Telegraph)
===============