C. Ronaldo breaks another world record
Juventus Striker, Cristiano Ronaldo Breaks Another World Record As He is Now The First Player Ever in The History of Football To Score 20 League Goals in 12 Consecutive Seasons.J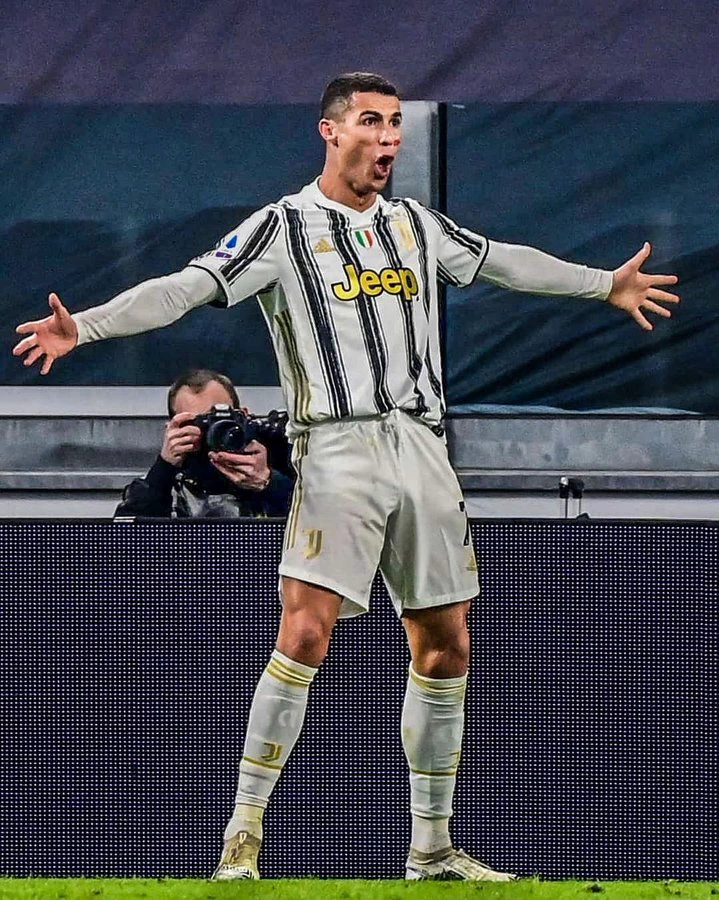 Juventusand Portuguese forward, Cristiano Ronaldo is currently trending all over the world after he broke another world record in Juventus Seria A match against Spezia at the Allianz Arena on Tuesday night. Juventus comfortably defeated the visiting team by 3 unreplied goals to claim yet another victory as they continue to fight their way up to the top of the league.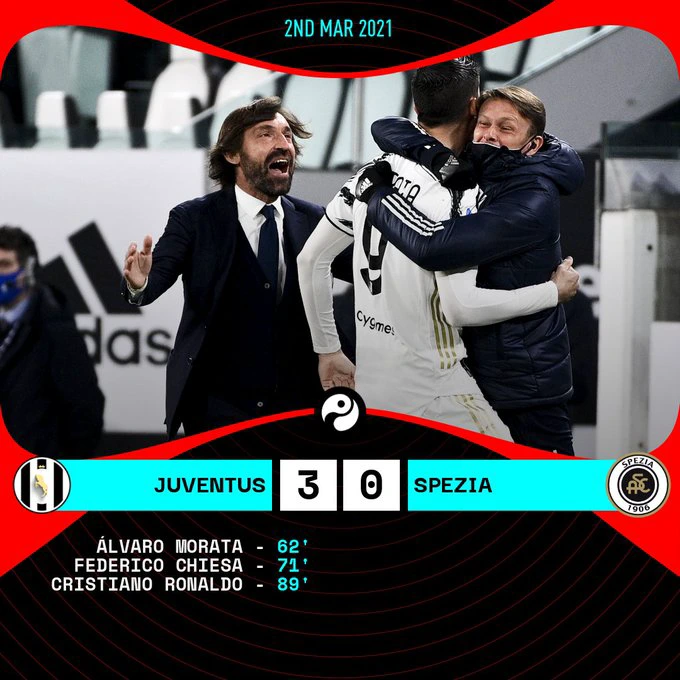 The much entertaining match saw both teams settle for a goalless draw in the first half after a very poor play by the home team but appeared more better and energetic after the halftime break. Former Chelsea striker, Alvaro Morata scored the first goal of the night for Juventus in the 62nd minute, Federico Chiesa doubled the lead for the home team 11 minutes later before Cristiano Ronaldo scored the third goal of the night a minute before full-time as Juventus claimed all the much needed 3 points.
Their recent win is coming just 3 days after Juventus played a disappointing 1-1 draw against Verona, a game which Ronaldo also scored.
His recent goal against Spezia on Tuesday takes Ronaldo's goals to 30 and 5 assist in all competition this season in just 36 games, meaning that the 36 year old has now scored 44% of Juventus' league goals this season.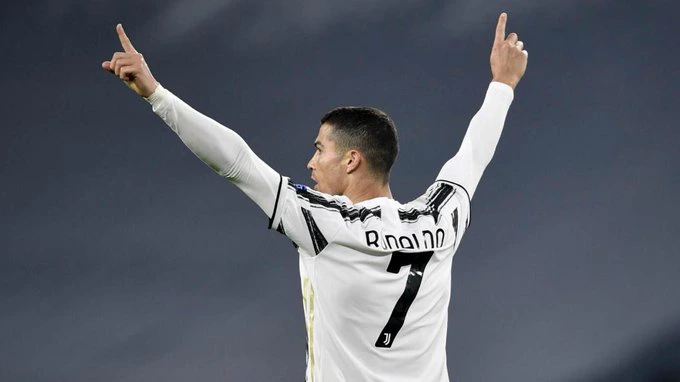 The goal in the 3-0 win was his 48th goal in his last 48 games for his team in all competition, and it was also his 49th goal in his last 50 Serie A games, meaning he is almost averaging almost a goal every 90 minutes, making him the highest goal scorer in the Italian league since his arrival from Spain.
Since joining the Italian side in the 2018/19 season, Ronaldo is Juventus's top scorer in all competitions with 92 goals, Serie A top-scorer with 72 goals, Serie A top-assister with 16 assist, UCL top-scorer with 14 goals, Coppa Italia top-scorer with 4 goals and Supercoppa top-scorer with 2 goals.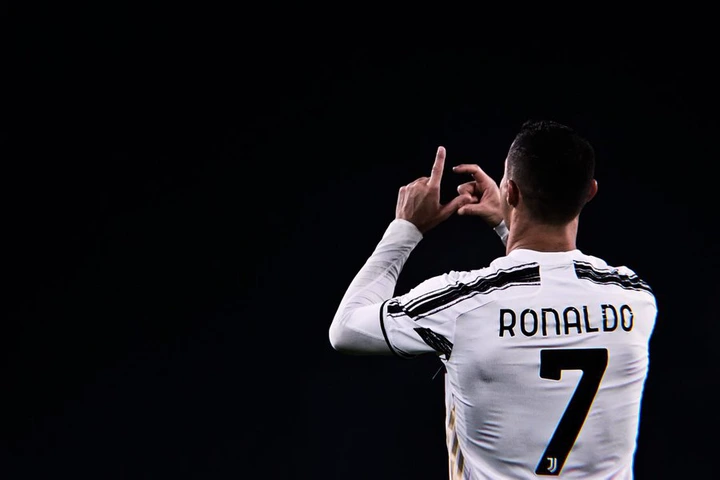 His goal against Spezia also saw Ronaldo make history in the world of football as he becomes the first player ever to score 20 league goals for 12 consecutive seasons.
Having scored 26 goals in the 2009/2010 season, 40 in 2010/2011, 46 in 2011/2012, 34 in 2012/2013, 31 in 2013/2014, 48 in 2014/2015, 35 in 2015/2016, 25 in 2016/2017, 26 in 2017/2018, 21 in 2018/2019, 31 in 2019/2020, and currently have 20 league goals in 2020/2021 season.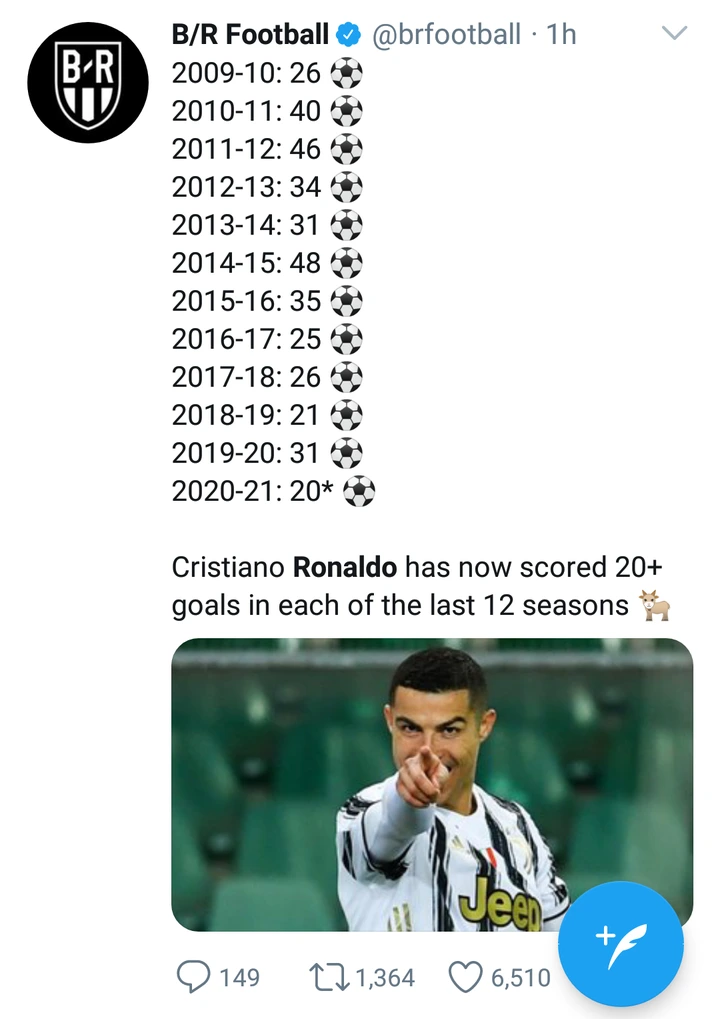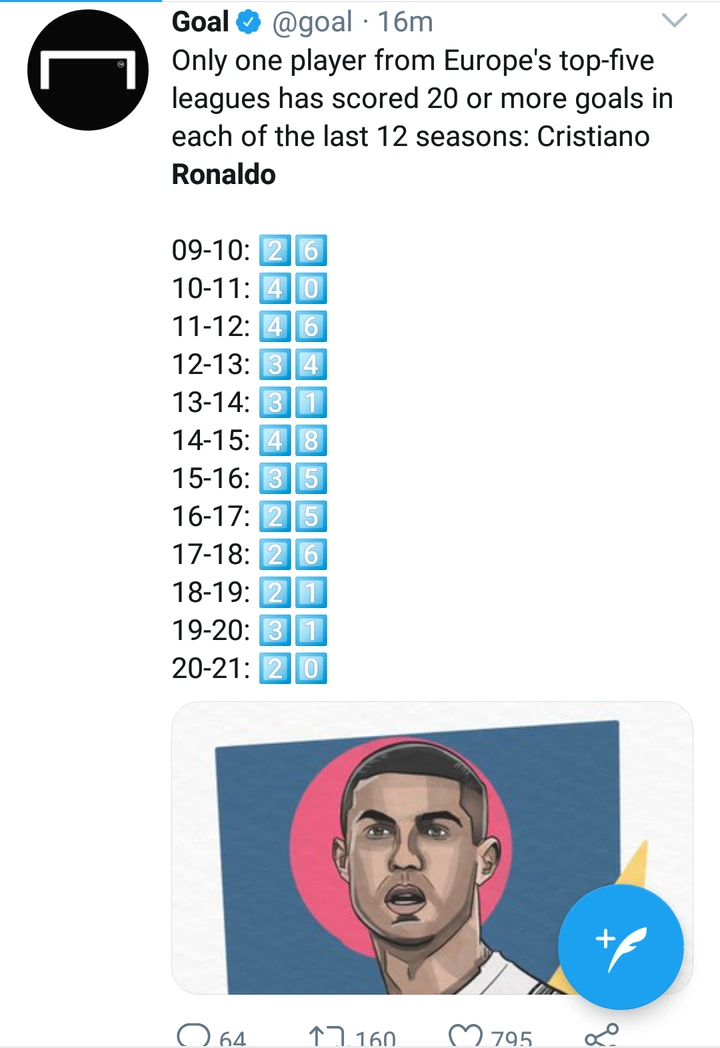 The math also saw Ronaldo make his 600th league appearance, having previously turned out 27 for Sporting CP of Portugal, 196 for Manchester United in EPL, 292 for Real Madrid in Spain and has already made 85 Italian league appearance for Juventus.
==============